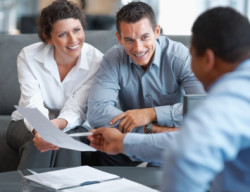 If you owe back taxes to the IRS or the state, you're probably experiencing anxiety, frustration, and even fear. With such debt looming over your head, it can be difficult for you to relax and get on with your daily life. You can make tax issues a thing of the past, though, with a little help from a professional. If you're in need of tax relief, the pros at Midwest Accounting and Tax Service of Omaha can help. Our team of tax consultants has over 20 years of experience and can offer you knowledgeable tax help that will resolve your debts and improve your financial situation. Don't waste another moment dealing with back tax problems on your own. Call or e-mail Midwest Accounting and Tax Service, Inc. today to get your tax issues resolved completely and correctly!
With our vast range of experience in the field of taxation and accounting, we're able to provide clients with a wide range of tax settlement options. Different cases call for different tax settlement strategies, but luckily we're well versed in all of them. Tax resolution options include:
Appealing a government action
Securing an offer in compromise
Negotiating an installment agreement
Negotiating a penalty abatement
Claiming innocent spouse relief
Stopping wage garnishments
And negotiating other tax settlements
Regardless of the specifics of your case, the expert tax consultants at Midwest Accounting and Tax Service will have you covered. We'll help you fill out all the necessary paperwork, compile the required documentation, and ensure that you have the best shot at acceptance no matter what type of tax resolution you're applying for. Whether you want to pay off your debts for less than you owe with an offer in compromise, be forgiven for a large sum of extra fees with penalty abatement, or safeguard your wages with the eradication of a wage garnishment, we're the team to call. 
Personal Tax Relief
Solving tax problems isn't easy. It requires a great deal of tedious paperwork and deft negotiation skills with the IRS or state tax authorities. It also demands unfailing personal attention and a sympathetic ear, which are much harder to come across. Fortunately, the licensed enrolled agents at Midwest Accounting and Tax Service of Omaha are devoted to making you feel as comfortable as possible with whatever tax problems you have. We'll listen to your tax issues with an open mind and create a customized tax help plan just for you. You'll be hard pressed to find another team of local tax consultations that's as dedicated to your customer satisfaction as we are. 
With a master's degree in taxation and complete licensing as an enrolled agent, Midwest Accounting and Tax Service is your Omaha-area resource for exceptional tax settlement options and professional tax help. No matter which tax problems you're facing, you can rest assured that our skilled, helpful tax consultants will be there with the guidance you need. Call or e-mail us today to set up your free consultation!